Ref:
Date:
Location:
Photographer:
[clikcontent type=paymentBuyLink replaceable=true]
Ref:
Date:
Location:
Photographer:
[clikcontent type=paymentBuyLink replaceable=true]
About The Crafts - Tatting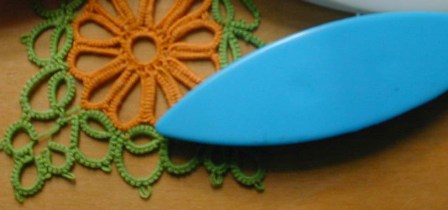 .
Tatting is a delicate handmade lace formed usually by looping and knotting with a single cotton thread and a small shuttle.
Tatted lace was made famous in the 19th century as a lace decoration for use in the home and on women's clothes but similar kinds of lace have been found in the tombs of ancient Egypt and the art of making knots and loops with thread dates back to early fishermen who used the similar skills to make their fishing nets. In France tatting is known as
frivolet
. The craft probably came to India with the British colonists and whilst it is almost a forgotten craft there are still some older Indian women who were taught it in their youth.
Tools
The only tools needed are a shuttle, fine yarn and sometimes a very fine crochet hook. The shuttles can be made of plastic, bone, mother-of-pearl, horn or metal. A keen tatter will grow fond of her shuttle which will have warn to her use.
Yarn
Any fine yarn can be used for tatting. Mostly common cotton threads in 10s or 20s are used but in one of the MESH groups we have also tatted using embroidery and sewing threads for very delicate work.
The finer the yarn the more delicate the lace.
The technique
The yarn is wound onto a shuttle and the tatter pulls off a length of yarn and by slipping the shuttle above and below the length of thread she can make knots and loops to form patterns. A straight row of knots is called a chain and they are looped and joined with picots.
More intricate designs can be made using two shuttles to create one piece of lace work. Beads can also be added in as the tatting is worked.
Products
Tatting can be used in many ways including for lace borders for decorating clothing, household linens etc. Anand Crafts, the tatting group that MESH works with also make hair clips and hair bands, Christmas decorations and brooches, book marks and earrings.
Products
We accept wholesale orders for tatted products at contact@mesh.org.in or in MESH, 5, Local Shopping Centre, Uday Park, New Delhi. The shop is open from 9.30 a.m. to 7 p.m. Monday to Saturday. It is closed on Sunday