Italian ladies meet for coffee and fairtrade shopping in MESH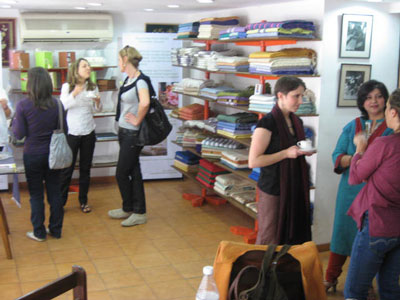 It was a delight to host a coffee morning for some of Delhi's Italian women in MESH Delhi shop yesterday. There was much sharing of news and exclamations over the types of products for sale in MESH.
I handed out leaflets about MESH, Fair Trade and our Fair Wages project and spent a few minutes explaining that MESH markets products made by disabled and leprosy affected artisans and that we are guided in our way of working by the ten standards of Fair Trade.
One of the visitors said "I am so glad that I know about your shop; I am moving soon and they are many things here in MESH that I will need for the new house so I will come back to to buy them once I have moved." She was with her small son who seemed to enjoy the soft toys upstairs.
Also with us was Mrs. Diksha Upadhyay who stayed behind to share her marketing experience and make some suggestions as to how MESH can bring more customers into our shops.
I once heard someone say that he could see a great likeness between Italians and Indians…strong sense of family, slightly wild driving, joie de vivre and a love of children. I thought I saw similarities in their shopping too…long live Indian and Italian shopping in MESH!