MESH at the time of Corona Virus 1
4th April 2020
The Government of India took steps early to keep corona virus out of India and controlled within India. International flights were banned and traces put on anyone who had come in from affected countries already. Public spaces, cinemas, restaurants etc. were closed early and then on 22nd March all of India was asked to stay at home for 14 hours. That was a success, easy to follow for one day but then a day or so later a 21 day lockdown was started. Borders between states were closed, flights and trains and interstate buses stopped and everyone was instructed to stay at home. All non-essential business and places of work were closed or people sent to work from home. This means that the producer groups that supply MESH had to close. In a few cases work could continue by some individuals from home but in other places, weaving looms and handicrafts workshops remain closed and machines idle. Unlike in other countries permission to go for a daily walk has not been given here, people have to stay at home.
With 1.3 billion population these extreme precautions are vital as it will be quite impossible to provide adequate medical care to such a big population should widespread community transmission take place.
You may have heard that some daily wage workers found themselves far from home and without work and many tried to walk home. The Government had not realised what a big problem they would be to keep at home and there was some bad publicity but now those people too are being kept in isolation where they are and the Government must feed them and provide them with shelter. This did not affect our artisans.
MESH of course is closed too and our staff are all at home. We have been instructed to ensure that staff are paid for these 21 days which MESH will do but not until we can get back to work and get signatures on cheques and money transferred. So for our staff too, personal cash may be running low to buy essential foodstuffs for family, Mathew is thinking of ways to help those staff members who need it now.
But what of our groups? I have been able to collect some information from three groups and some very lovely pictures from one.
KUKA.
Janardanam spoke to us today from Kusht Seva Ashram (KUKA) which is a leprosy colony about five hours by road from Delhi. His story is a great example of how Fair Trade can work. In KUKA they weave cotton and have recently been making organic cotton kitchen towels/tea towels for export. They closed for the one day lockdown and then reopened for weaving but the police asked them to close the workshops and sit at home. The looms are idle. But usually profits from the production unit are collected in the colony bank account for all the colony members whether they weave or not. Now during this crisis,that money is being used to buy groceries and vegetables for all the members of the colony. One man is assigned to go in a rickshaw each day to do the shopping. He wears a mask and sanitizes his hands. When he comes back he takes a bath and washes his clothes. Fair Trade promotes the strengthening of disadvantaged communities, here the profit from the weaving is providing precious worry-free support at this time of crisis to the elderly and vulnerable people affected by leprosy in KUKA. Thank you for supporting their efforts.
Little Flower Leprosy Rehabilitation Centre (Little Flower)
Picture credit - Sakhi
Little Flower is located in Bihar right on the border with Nepal. Usually they hand spin silk and weave silk and cotton into fabrics and scarves. Sakhi, a professional photographer has been helping to run the unit for some months and her focus has been to try and sell the large stocks of handwoven cotton that have built up over the last year or so. Just before the lockdown they started converting the material into face masks for the use fo the colony members and for sale locally. Now the work unit is closed, the weaving looms are idle but the sewing machines have been taken home and the masks are being made at home.. Sakhi wears a mask and gloves when she goes around the colony. Now there is no money for raw materials so even when they reopen they cannot immediately begin weaving. so they will focus on sewing masks and hope that the elderly and vulnerable people affected by leprosy will stay safe.
The pictures show something of the life in the leprosy colony just now during the lock down. Usually the production unit contributes some profits each year towards the care of some of the oldest leprosy members, this is fair trade in practice. Little Flower needs fair trade to work well for them once we have come though this crisis.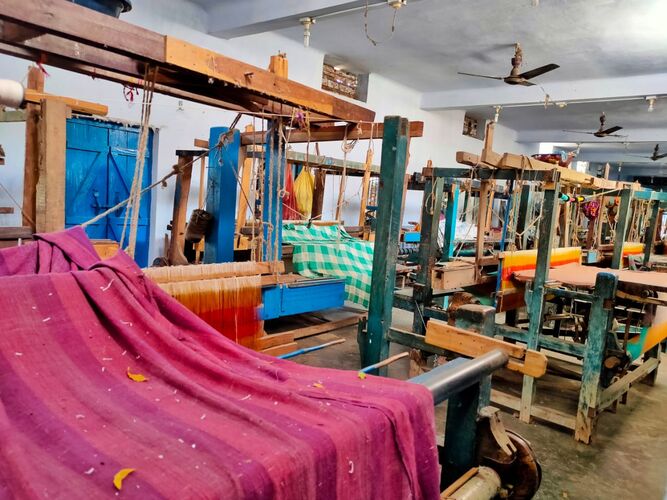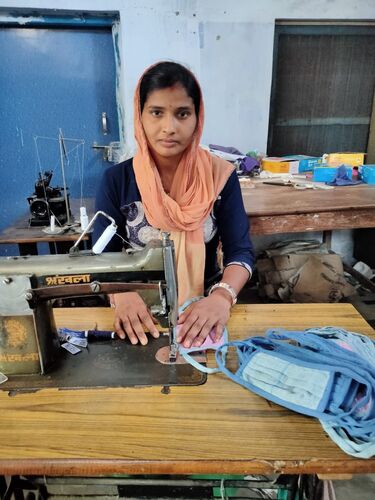 To see just what has stopped in Little Flower because of the lockdown check
here
Sajad, Care Kashmir
Sajad Ali is a papier-mâché artist with disabilities living in Kashmir. He is by nature a most positive person but for the first time there was a hint of despair in his last message. For many years there has been political unrest in Kashmir and in trying to deal with that the last five months of 2019 there were strict curfews in the state, making all work and normal life very hard. When he heard of this corona virus lockdown he wrote to say that he was not sure Kashmir could take another lockdown as crafts people in particular (and Kashmir is famous for crafts) were already living hand to mouth month after month. He says "I spend my time teaching my children and think how will their future be. I hope everything will be alright soon....thank you for remembering us." The future of this man and his family and those of other disabled craftspeople he works with lies in continued, sustained fair trade. More than ever he needs to know that there will be orders and a new future when corona virus ends.
For more about Care Kashmir
see here
Bethany Leprosy Colony and Jone Pryadarshini Mahila Mandal, Andhra Pradesh
The weavers and tailors in Bethany Leprosy Colony and the tailors in JPMM, (a women's society in the colony were making cotton face masks for distribution in the leprosy colony just before the big 21 day lockdown began. Each colony member has been given two so they can wash and wear them and in that way reduce the risk of coughing or sneezing over others. The tailors copied a surgical mask and used soft cotton.
The Government of Andhra Pradesh has distributed 10-15ks of free rice and 3kg of lentils to each family already and another consignment is to be provided in 15 days. Government appointed volunteers are walking through the colony to check everyone is feeling alright each day. These essential food supplies will be a great comfort for families where 21 days without work will mean 21days without any income.
To know more about Bethany Weaves before the lockdown please
see here..
And for more information about JPMM
see here..